The gay messiah is coming... in 5-17 months' time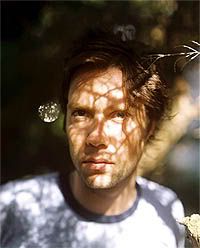 Eight posts on this blog and still no mention of Rufus Wainwright, my favourite singer ever? That's just Not On.
It seems like forever since Rufus' last album, Want Two, came out (it was actually less than two years ago) but we don't have too much longer to wait until he releases his fifth album, which has been pencilled in for 2007; I just hope it's released closer to January than December.
There have been mixed reports about what it sounds like, but as it's a Rufus album he'd have to work really hard to make it rubbish. He's aparently scaling back the arrangements and I've even heard the word 'folk' bandied about, which worries me slightly, but Joan Wasser has described it as "soaring, outrageous and gorgeous" which sounds a lot more exciting. He's played a few new songs live, and one in particular has really caught my attention:
Sans Souci
It takes a few listens but the melody is gorgeous, as are the lyrics, which are all about temptation and wanting to go back to his former drugs-and-debauchery lifestyle, but realising that that wouldn't be for the best. If it sounds this good live with just a guitar as an accompaniment, I can't wait to hear how it sounds properly arranged and produced on the album.