Album review: Growing Flowers By Candlelight, Ainslie Henderson.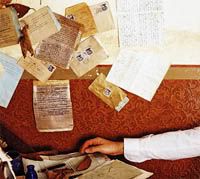 I've loved Ainslie ever since he was on the first series of Fame Academy, so I was hugely excited when I found out that he was releasing an album. The release of the album is something he's pretty much doing all by himself, right down to taking the albums to the Post Office to send them; this means it's destined not to be heard by many people, which is a shame because although it's not exactly cutting edge,
Growing Flowers By Candlelight
is a good album.
The guitar- and piano-led songs on first listen seem to all be a bit similar as there's not a huge variation of tempo, but on further listens they start to distinguish themselvs and grow on you. It's obviously an album that is very personal to Ainslie, and the theme of lost love and longing that runs through most of the songs is clearly based on his own experiences - presumably with the Claire that he dedicates the album to. The album is a low-key affair, but the lyrics are lovely and it's certainly worth a listen.
7/10
Buy the album.
(The first thousand are being signed - I got #77).